Dress, The Shopping Bag/ Shoes, Fashion71/ Choker, DIY
Hello dolls! I hope you guys are having a swell week so far. The Shopping Bag was kind enough to send this beautiful, peach dress which I rocked with my fashion71 booties and my DIY boho choker that I made, which I will leave the link to the video HERE. The print is my favourite part, and I think it's perfect for spring. The link to the dress is in the apparel description above.
The shopping bag has given my readers a coupon code for 25% off their order. Just use the discount code FRIDAYNIGHTSTYLE , and this code expires May 28th. Happy Shopping!
xoxo,
Olivia Aimes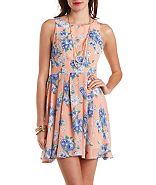 Floral Chiffon Pleated Skater Dress
Online only! Floral-printed chiffon gets girly with a pretty, fit and flare dress, topp… [More]